In order to kick off the year 2020 in good spirits, we donated money for the Finnish Natural Heritage Foundation to protect the Finnish primeval forest! The foundation is a non-governmental organization that promotes the protection of old-growth forests.


Our Good Deed for 2019
The Finnish Natural Heritage Foundation pours a significant amount of its resources into protecting primeval forests since they play a primordial role in nurturing biodiversity. The foundation has been active since its establishment in 1995 purchasing old untouched forests with donation funds and applying for permanent protection for them.
We wanted to make this donation in order to start bridging the gap between operating globally and being environmentally conscious. In fact, the year 2019 has kept us busy and flying around. We have been participating in several different trade shows – such as IAAPA US, IATP US and IAAPA Europe. Therefore, we decided to do what we could to compensate for our flights from 2019.

"In Finland, a mere four per cent of the forests in the southern half of the country is under legal protection. Therefore, the Finnish Natural Heritage Foundation's primary goal is to purchase forest sites from southern and central Finland. We wanted to support them in this endeavour by purchasing some primeval forest."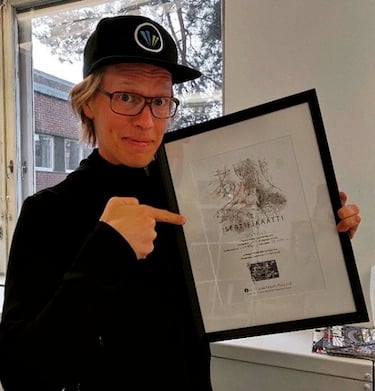 Raine, our CEO and founder with the certificate


The conservation area is called Tomteskog, located in Porvoo. This city is one of the six medieval towns in Finland. We are happy to say that the majority of the Tomteskog forest is thick, diverse, and uncut. Loosely translated the name Tomteskog means The Forest of Elves. Not completely inappropriate considering that Santa Claus allegedly keeps his headquarters in Korvatunturi, Finland.


Plans for Some Carbon Neutral Shipping in 2020

Besides being part of the concrete work for the conservation of Finnish old-growth forests, we are also planning for some carbon-neutral shipping for this year. This was deemed necessary since our interactive game platforms have already been sold to over 55 different countries. In other words, ValoClimb and ValoJump products can already be found globally in more than 300 customer locations such as around the world. Our customers include trampoline parks like Sky Zone, Jump Square, Altitude Trampoline Park and Big Air. Our products are also popular in FEC's such as Super Park; fitness clubs like Konami; and hotels and resorts such as Club Med.


There's currently no way to totally eliminate carbon emissions from shipping, as most of the transportation industry still relies on fossil fuels. However, we as a company would like to move in the direction of carbon neutrality and reduce our carbon footprint in a meaningful and impactful way. Meaning that in addition to compensating all the flights for 2020, we have set the goal of also compensating – at least to a large extent – the CO2 emission caused by shipping. Finally, we are also planning on switching to more eco-friendly packaging.
If you would like to keep posted on how well we manage to reach this goal, fill in the form below to subscribe to our newsletter.