It has been a hot minute since the last face-to-face IAAPA Expo so we are super excited to be attending to this major industry event this year! And oh boy, do we have lots to show and share with you: we have a new option available for ValoJump, ValoJump air. All eyes are on this new air track version of ValoJump since it is not only a part of the Trade Show Floor Tour for the Virtual Reality Suppliers but also as a nominee for the IAAPA Brass Ring Awards (fingers crossed!). Get in touch with us to ask for a free entrance pass and visit our booth 4286 to hear our trade show offer while getting acquainted with ValoJump air!


ValoJump air – Gameplay on an air track
This mixed-reality game platform is played while jumping on an air track, instead of a trampoline!! Check out the video to see what we mean!

We made this little adjustment to the legendary ValoJump, in order to offer a quicker and cheaper retrofit opportunity. In addition, ValoJump air requires less ceiling height, which makes it a great fit for a greater variety of different types of indoor locations!


Download the ValoJump product leaflet to find out more about our mixed reality game platforms for trampolines and air tracks or give our Sales Team a shout to discuss installation requirements by clicking the link below:
Come and hear about our trade show offer
For this year's show, we have put together a show special that we'll be happy to share with you if you just pop in and come and say hello. You will find us at booth 4286, which is located at the very heart of the Family Entertainment Pavilion, by the North entrance.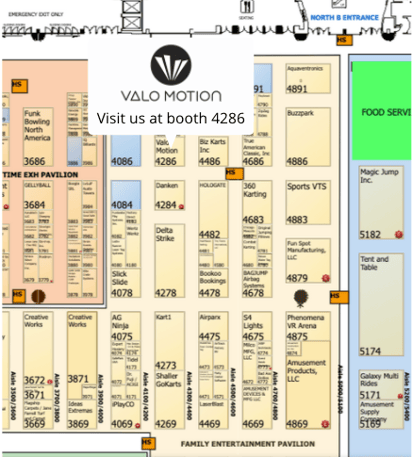 Making your way to the Family Entertainment Pavilion will not only get you to us but also offers a great opportunity to visit some of our biggest customers and partners: Fun Spot Manufacturing, iPlayCo, United Play and Airparx!


Get a free guest pass
We are also giving out some guest passes, reach out to us to see if we have one left for you! Just fill in the form below and we'll get back to you shortly.
Awards nomination and VR floor tour
This year, much like in 2019, we are nominated for the IAAPA Brass Ring Awards for the best new product category. We are hoping that history will indeed repeat itself and that with the help of ValoJump air's double setup, we will end up winning also this year! You can visit our website to read about the ValoJump double setup and Super Stomp that won the IAAPA Brass Ring Award in 2019.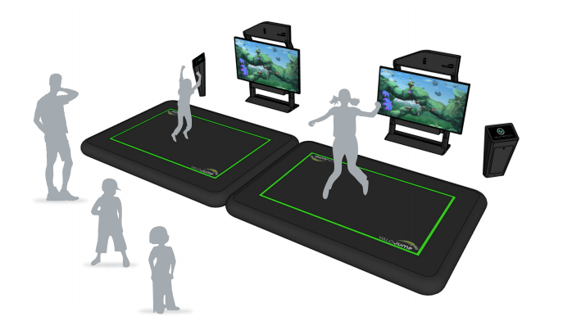 ValoJump air double setup that allows ValoJump's single and two-player games
In addition, ValoJump air will also be a part of the Trade Show Floor Tour for the Virtual Reality Supplier. The tour will take place on Tuesday, the 16th of November. The tour will stop by our booth 4286 at 11:32. You can find out more information about the tour by visiting IAAPA's website. Hope to see you there!
Hygienic and ROI generating digital attraction
ValoJump and ValoJump air are digital attractions where the games can be played without any physical contact with the product or other players. ValoJump, much like ValoJump air, is played one person at a time, so there is automatically physical distancing between people. ValoJump and ValoJump air are hygienic digital attractions that have been designed to be safe and ROI generating. Read this blog post to find out how ValoJump enables touchless use and how its in-built marketing tools can be used to enhance repeatability!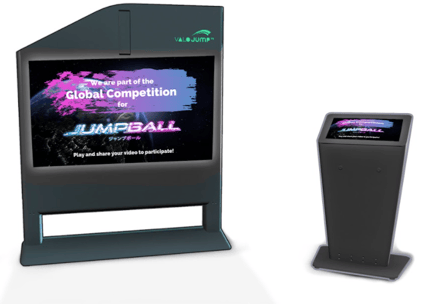 ValoJump and the touchscreen can be used to show ads in between games